Bridgette Blanton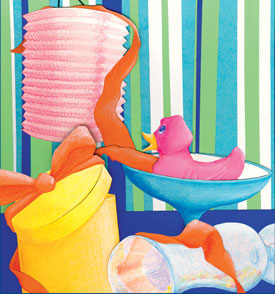 300 Series Colored Art
About Bridgette Blanton

Bridgette D. Blanton is currently attending the Savannah College of Art and Design (SCAD) in pursuit of a BFA in Illustration with a minor in Fashion. Her journey to illustration began with the desire to draw ladies in fancy dresses. That passion led her to attend college to study fashion design. Discovering that her love of fashion was best expressed on paper, she decided to study illustration instead. Nearing graduation and working under the pseudonym of Lady Grey, Bridgette's work materializes in the form of watercolors, line drawings, and cut paper collage. Her work is inspired by fashion, music, elegance, and the intricate details of the everyday.

When not working on art, you can find her shopping for vintage clothes, perusing fashion magazines, or watching comedy tv.
Interview with the Artist

How does sketching/drawing/painting still life imagery in class affect your own personal imagery?
A good artist studies the world around him/her and translates that into their artistic style. Still life imagery is the purest form of this. Studying the intricate still lifes in class allows me time to examine the details. I can use my own mark making to illustrate them. These marks inevitably end up in my subsequent artwork.

How did the Strathmore paper you used for the project affect your drawing (or painting) techniques?
With the Strathmore 300 Series Art Paper, I was allowed a range of colors and textures to work with. This is a primary concern when doing collage work. The various textures also worked well when applying dry mediums to them (they're very versatile). With the Strathmore 300 Series Watercolor paper, it really allowed me ample time to apply wet on wet techniques, and the paper also dried quickly enough to work in layers.

Which artist(s) inspire you?
I consider Edgar Degas, Aubrey Beardsley, and Alphonse Mucha great inspirations. I'm also really inspired by the works of many fashion illustrators like Bill Donovan, Stina Persson and Kat Macleod (among many more!).

What advice would you give to beginning artists?
Be curious and creative! Draw in your sketch book like no one will ever see it. It takes many bad drawings to make a good one.