Chieh Lee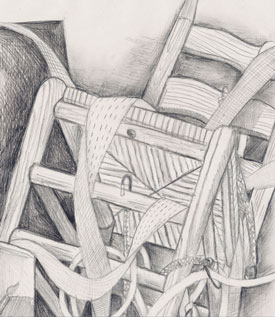 About Chieh Lee

Chieh Y. Lee (Chieh) originally came from Taichung, Taiwan and now is living in Edison, NJ with her family. She has dreamt about being an artist since she was little. But she did not get traditional art training until she was in middle school. In 2005, Chieh's family immigrated to America and she continued her high school education in Edison, NJ. She has won many art awards and her art pieces were displayed in Capitol Hill and the NJ State House when she was in high school.
Now Chieh is studying illustration and taking Concept Art for Games as a minor at Savannah College of Art and Design (SCAD) in Savannah, GA. Her future goal is to be both a concept artist and free-lance illustrator. She is open to the different types of commission work.
Interview with the Artist

How does sketching/drawing/painting still life imagery in class affect your own personal imagery?
Since the beginning of art history, sketching/drawing/painting still life has been deemed as the entrance to study art. All beginners need to study still life before they go to another level. I constantly sketched and drew still life in my foundation drawing classes so my artistic ability and skill grew enormously. Also, because I have enough drawing experiences as I go to the higher level illustration major classes, I am able to convey my imagination in a realistic way to create my fantastic world on paper.

How did the Strathmore paper you used for the project affect your drawing (or painting) technique?
Different types of Strathmore papers allow the artist to work on different media and with different techniques. I worked on Bristol Vellum and Newsprint Smooth papers. Bristol Vellum a great surface for graphite pencils and line work. Also, I tried a wash on my still life drawing and it handled it pretty well. Newsprint Smooth papers provide a beautiful smooth surface for dry media. However, I worked with it for preliminary studies and sketches more than the finished drawings.
Which artist(s) inspire you?
Fine artists: Van Gogh, Gustav Klimt, Odilon Redon, John Rise, Peter Paul Rubens, Sherry Yee, Johnny Yen, and Yong Zhou.
Illustrators/Sequential Artists: Takei Hiroyuki, Jimmy Liao, Hayao Miyazaki, Daniel Powers, Peter de Seve and Au You Shiang

What advice would you give to beginning artists?
"Practice makes perfect" is my advice for beginning artists. I believe that everyone can be an artist and draw. All you need is to practice and practice. As long as you put time into working on your art, your artistic ability will grow. Also, trying to go to museums on a regular basis or reading books about art are helpful and this information makes you more knowledgeable about art subject matter.