Journal 2 - Thistle
This book is named Thistle after Strathmore's iconic logo. In the mid-1890's, Strathmore's founder Horace Moses visited the Strathmore Valley in Scotland and was inspired by the beauty of the blooming August thistles. By 1895 Horace began using the phrase "Strathmore Quality" and the thistle as a symbol of the highest quality papers.
Traci Bautista
San Ramon, CA
Title: she PLAYS. she LOVES
Medium: Acrylic, Traci Bautista stencils, acrylic ink, color pencils, sharpie water-based pen, white out, collage pauge matte, collage paper
Traci Bautista is a mixed media artist, designer, teacher & creative director of treiC Designs. She is the author of Collage Unleashed, Doodles Unleashed and Printmaking Unleashed.
Flora Chang
Overland Park, Kansas
Title: Happy Doodle World
Medium: Markers
I am a full time designer and artist based in Kansas City. I love folk art, antique markets, and ice cream. I doodle all the time and carry my markers and sketchbook with me wherever I go.
Marcello Mesquita
Kansas City, Missouri
Title: Life
Medium: Pen & Ink, Markers
Illustrative Designer. I enjoy combining illustrative elements with hand-lettering.
Livy Long
Kansas City, MO
Title: Everything Is In Bloom
Medium: Marker, Ink
I like to make things. Most notably, I like to make things happen.
Nicolas Skorupka
Nice, Region PACA
Title: Untitled
Medium: Ink, watervolor, graphite, brushes, Pilot G - Tech - C4 pens
Hi! Although originally a sculptor, I have become a water, paper & color addict. No big artistic statement here, just a fact: Drawing is the way to explore both the inner world & the world around us.
Paul Davenport
Birmingham, West Midlands
Title: Distractions
Medium: Charcoal, Conté, Graphite
Interested in exploring marks to represent light and shade. "Distractions" is a work sheet for a larger drawing, inspired by a man in a gallery using his iPhone and not once looking at the paintings.
Bette Orr
Crisfield, MD
Title: Tulips/Roses
Medium: Watercolor
Professional watercolor artist working primarily in transparents and loose style depicting nature, animals, wildlife.
Sandra Strohschein
Zeeland, Michigan
Title: A Snowy Trail
Medium: Watercolour
Professional artist/ Instructor, National/International. Watercolor Brush line with Rosemary & Company, UK. Published, En Plein Air, Art of Watercolour/ Splash 2017. Many honors artist residencies.
Valentin Katrandzhiev
Dobrich, Dobrich
Title: The Blue Jay
Medium: Acrylic
Wildlife artist working in acrylic, International sales. Founding member of the Bulgarian Society for the Protection of Birds. Artist in residence in the USA and Bulgaria.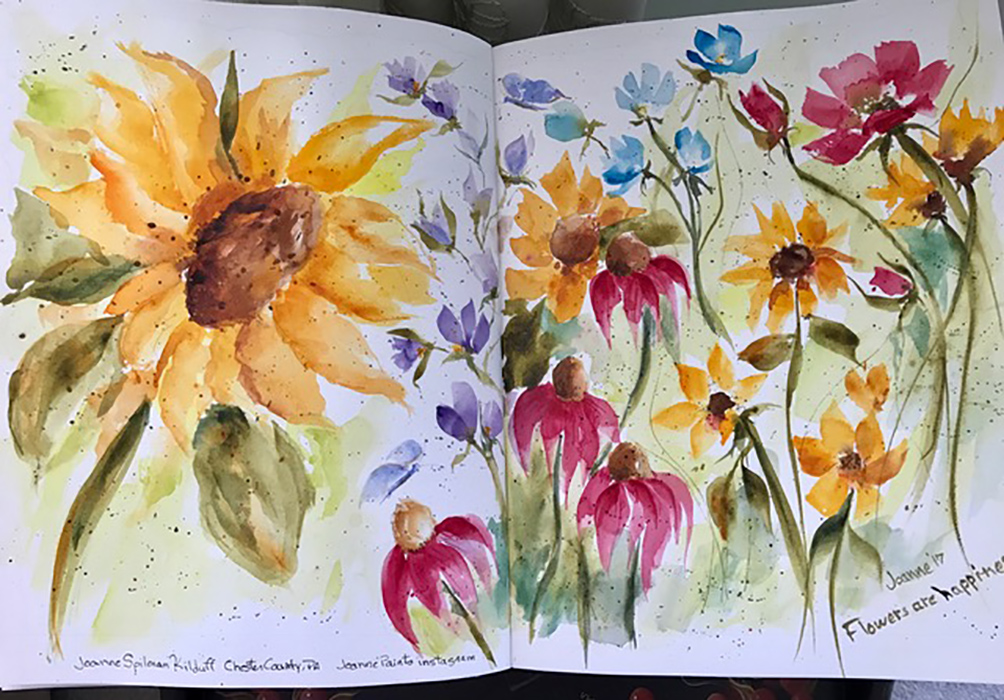 Joanne Kilduff
Coatesville, PA
Title: Flowers are Happiness
Medium: Watercolor
I am mostly a self taught artist, with some lessons in watercolor, folk art, oils. I prefer painting Florals so that is my focus.
Gwen Stillwell
Coatesville, PA
Title: Zentangle Circus Elephant, Spring Blooms
Medium: Acrylic / Pen
As a self-taught artist, I create primarily with acrylics, am a Certified Zentangle Teacher "CZT", and am currently venturing into watercolor and alcohol ink.
Judith Haynes Levins
Cazenovia, NY
Title: Winter Stream
Medium: Watercolor
Judy paints her world in Upstate NY. "If I can reach somebody, have them pause a moment, to see the beauty that surrounds us, then I have shared a moment with them & that's a really good thing."
Posey Gaines
Skiatook, OK
Title: Western Oklahoma
Medium: Watercolor
I have always been inspired by the magically world of art. I started drawing at a young age and you might say this artistic inspiration has touched everything I've ever done in my life.