Alex Marshall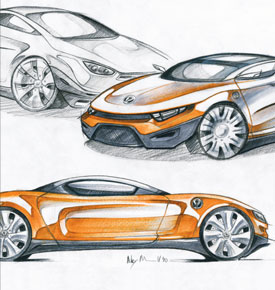 About Alex Marshall

Alex loves to sketch. He's been drawing since he could remember and that naturally lead him into a design career. He earned a B.F.A in Industrial Design from the Savannah College of Art and Design in 2009. He's worked in a variety of markets including cell phone accessories, power tools and PND/marine navigation. In his spare time he enjoys designing footwear and soft goods.

To Alex, design is a process. During this process, he blends aesthetics and user research to create meaningful user-centered solutions. These objects can and should evoke positive emotions and make the users task easier and more enjoyable. Generally this process involves drawing to develop his ideas.
Interview with the Artist

How did you interpret using the Strathmore Thistle for the pad cover artwork? Anything else you'd like to share about your piece?
Although using digital media to draw is common in industrial design, everyone should first learn how to sketch and draw by hand. Strathmore 400 series Layout paper is a great medium to use. I quickly sketch a rough underlay then use different layers of paper to correct the sketch and compose the drawing.

How did the Strathmore paper you used for the project affect your drawing (or painting) techniques?
Strathmore layout paper has a nice tooth for drawing and holds maker very well. It is a great all-round paper to work with. I use it throughout my drawing process as an underlay all the way through to the final marker rendering.

Which artists inspire you?
I always fall back to the design philosophy of Dieter Rams, The Ten Principles of Good Design are always in the back of my mind when I am working on a project.

What advise would you give to beginning artists?
Don't get discouraged if you're not happy with your work when you first start. Just keep practicing and perfecting your craft.